Responsive or Mobile Website Design?
We Recommend Responsive Over Mobile Website Design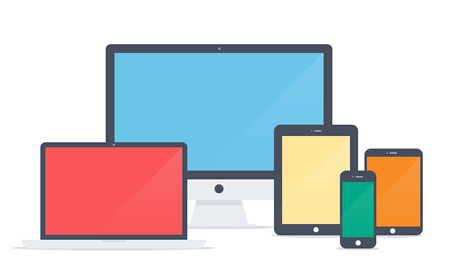 Make sure your website is mobile ready!
Have you ever seen a website that changes it's interface when it is viewed on a desktop or a tablet or a smartphone? That kind of shape shifting is called a responsive website design and it's not just cool, it actually makes your customers user experience more enjoyable... and I'm sure you know that a good user experience usually equates to more business. Did you also know that "...23.14% of web site visits in December 2012 came from mobile devices, an 84% increase over December 2011 and a 283% increase over January 2011." (InternetRetailer.com, Jan. 9, 2012)

Why should I get a responsive website design over a mobile website?
The way our customers view the web changes through out the course of day, from smartphone, to tablet, to desktop computer, so for best web practices and a better user experience we recommend a responsive website design.
Why not have a separate mobile website?
Large corporations may benefit from a separate mobile website, since they have larger websites, more specifically designated microsites and big budgets for advertising. However, for small and medium sized business we sincerely don't believe you should embark on having a separate mobile website.
WHY?
1. It spreads out your Google ranking making your mobile site rank lower than your main website. Don't take our word for it though look at what Google said about responsive web design and why they'll actually rank you higher for having a responsive website (read it here).
2. Having a separate mobile website will make it more expensive and time consuming to update content since it will have to be updated on two separate websites.
3. With CSS3 media style sheets (this is what makes the website responsive) you're able to implement different looking affects and sizing for many different screen sizes. Want an example? View this page on your smartphone, tablet and desktop (or simply adjust the size of your browser screen horizontally). Pretty cool, huh!
4. Future proofing: we're not sure you're aware of it but there are flexible displays, internet glasses and a bunch of other differently sized devices coming down the pipeline. Having a responsive website will enable you to conform to these new devices much more easily thereby reducing your future costs and design updates.
Our responsive web design can achieve the scalability and versatility to be seen optimally on most devices while minimizing your future costs.
This service was rated 4.3/5 stars based on 7 customer reviews.
How do I get started?
Tell us your web design needs by filling out the form to the left of this page and we'll get back to you to discuss a plan of action.
Need a hand managing and staying on top of the latest social media outlets?
We can manage all of your social media hubs while still keeping you involved. Let us develop a social media strategy for you.
Need to analyze what is working and what's not?
We can implement Google and social analytics for small businesses or full-scale Omniture® Analytics for enterprise sized businesses.