Local SEO Packages and Services
Local SEO Submission & Maintenance Service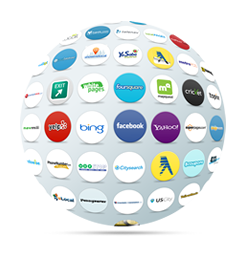 How You Can Increase Your Businesses Visibility
Take your local business listings to the Yext® level (no not a typo, read on)!
Online consumers perform over 3 billion local searches every month for nearby products and services. Your Local Search strategy can make a significant difference when it comes to increasing your potential customer base.
We offer businesses of all sizes – from local companies to national brands –the chance to get your business recognized while also enhancing and actively managing your local business listings. Our service, provided by Yext® gives you a single hub for creating a consistent identity for authorized distribution to the largest and most targeted local search networks on the web.

Get noticed on search and social platforms you know
Our network of 50+ best-in-class local search platform partners spans applications from desktop and mobile to social, industry-vertical and other specialty directories.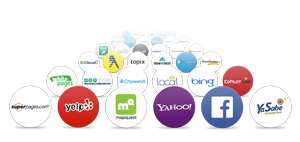 Here are just a few of the partners in our ever-expanding network that Yext® provides.
Get this service today pay only $50 a month or $450 a year! No contract or up front fees!
Pay $50 a month and we'll also include a personalized Google+ page for your business. This is what sets us apart from others. Yext® does not cover Google+ but we'll add it to your local search efforts at no cost. You'll get renewed monthly automatically until you cancel, which you can do at any time. No pressure no contracts, just results!
We make it just as easy to unsubscribe. Just visit this page again any time in the future and you can unsubscribe easily!
---
What is local SEO?
Local SEO is getting you seen and optimized on all networks that are locally driven, such as Foursquare, Facebook, Google+, 8Coupons, Citysearch, Yelp and dozens of others. In terms of Google and Bing, it means getting you seen on the map results. If you are a locally centered business offering products and services in a specified region you need local SEO, and with Yext® as our partner we can do it faster!
What is the best way for me to market my business online?
There is no one way to market yourself online as it is a constantly changing, dynamic and interactive gateway for all kinds of information. We recommend using all methods in a strategic fashion to minimize waste and increase your return on investment.
How do I get started?
Please fill out the form to the left with a brief overview of what you'd like to accomplish, the website(s) you'd like to market (or if you're creating a new website include the name youd like it to have) and any other information you'd like to give. The form is stretchable by dragging the right bottom corner if you'd like to make it larger.
We'll be in touch within 24 hours or less to arrange a phone or Skype or in person meeting.
Need a responsive website?
Whether it's an inexpensive responsive website template or a custom modification to your current website we can help you develop a website that's user friendly on all types of screens.
Need a hand managing and staying on top of the latest social media outlets?
We can manage all of your social media hubs while still keeping you involved. Let us develop a social media strategy for you.
Need to analyze what is working and what's not?
We can implement Google and social analytics for small businesses or full-scale Omniture® Analytics for enterprise sized businesses.