Our Digital Marketing and Design Services
A Complete Digital Marketing Company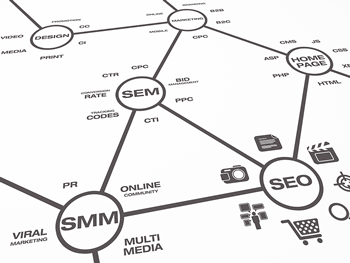 reelWebDesign.com implements an integrated approach for all of our digital and Internet marketing services.
Our services include search engine optimization, pay-per-click management, social media management, press release writing and submission, blog writing and management, email marketing, creative services, responsive website development and content production.
By taking an integrated approach to marketing you provide consistency for your brand across many channels, reduce your overall marketing spend and enhance your search engine optimization efforts on Google, Yahoo!, and Bing.
---
What is digital marketing?
Digital marketing is advertising that utilizes all electronic devices such as computers, tablets, smartphones, digital billboards, and game consoles to engage with consumers and other business partners. Internet Marketing is a major component of digital marketing and this is what we at reelWebDesign.com specialize in.
What is the best way for me to market my business online?
There is no one way to market yourself online as it is a constantly changing, dynamic and interactive gateway for all kinds of information. We recommend using all methods in a strategic fashion to minimize waste and increase your return on investment.
How do I get started?
Please fill out the form to the left with a brief overview of what you'd like to accomplish, the website(s) you'd like to market (or if you're creating a new website include the name youd like it to have) and any other information you'd like to give. The form is stretchable by dragging the right bottom corner if you'd like to make it larger.
We'll be in touch within 24 hours or less to arrange a phone or Skype or in person meeting.
Need a responsive website?
Whether it's an inexpensive responsive website template or a custom modification to your current website we can help you develop a website that's user friendly on all types of screens.
Need a hand managing and staying on top of the latest social media outlets?
We can manage all of your social media hubs while still keeping you involved. Let us develop a social media strategy for you.
Need to analyze what is working and what's not?
We can implement Google and social analytics for small businesses or full-scale Omniture® Analytics for enterprise sized businesses.