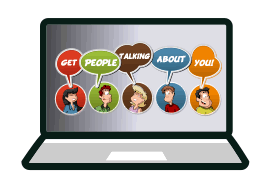 Content marketing is the new buzzword when it comes to online marketing. SEO was sooo 2001. Social media has been and gone. It's now all about Content Marketing. Whilst I don't actually agree with these statements, it does throw up an out of the ordinary and problematic situation for brands that are now engaging in content marketing. The problem is that everyone is doing it! So how are you going to break through the mass of content and make your writing and your message stand out? In this article, I take a look why giving your content a voice is crucial to whether or not your content marketing efforts succeed. Hold tight, this could be a bumpy ride (for your existing strategy).
The Internet is Awash with Content with No Voice
Every man and his dog now have a blog. Kids are even being told to start a blog when they get to college in order to, 'get their name out there'. Most of these blogs are truly terrible, but sometimes the content is actually pretty good. Millions of blog posts get published every day. Thousands of eBooks go live too. The competition is crazy!
That's bad enough for businesses, but when we combine this with a tool such as Feedly and we've got a real problem. Feedly, if you don't already know, allows you to read articles from all across the internet in one single location. It strips away all of your website branding and presents the reader with just the naked content. It's a great tool for readers, but when it comes to publishing content it throws up an interesting problem. How does the reader know that the content is yours?
Why Do You Need a Voice?
It's worth thinking about this question for a second. If you just write content to appear for certain search terms and not much else, I guess a voice isn't vital. You're aim, in this instance, is to appear in search engines and gain impressions. You don't need a voice for that. However, most businesses write content for more than just impressions. They want the readers to sign up to an offer. Or they want them to subscribe to the mailing list. If you want the reader of your content to do more than just read what you've written, if you want to connect with them and incite an action on their behalf, you need to have a voice. A voice that they will want to hear more of, that will help to convert them from readers to advocates of your brand.
Why You Won't Find Your Voice Today
Luckily, finding the voice of your brand probably won't happen overnight. Why is that a good thing? Well, can you imagine your blog all of a sudden reads totally differently than how it has done for the past six months? Your existing readers are going to wonder what is going on. Worst case scenario, they may all leave you. So luckily, a true voice can't be found overnight. It's something that develops as your business grows.
Feedback from readers is perhaps the biggest driving force behind this. Develop your content around what your readers like. Do they prefer a humorous tone? Do they like facts and figures? They may be more creatively minded and as such prefer rich graphics and images.
These are all things that you can gauge from your existing audience. Engage with them. Talk to them. Ask them. They are your biggest advocates and they are the ones who will make content marketing work for you. Without them, you just have content.
Getting a Head Start
So whilst you won't be able to develop your voice into a finished product today, you can begin to put things into order now. Think about whom your ideal customer is and why they read your content. Are they looking for some light-hearted reading after a hard day at work? Do they need some cold-hard facts that they can reel off to their boss in the middle of a heated debate? You probably already know your target audience, so begin to think what they would want. There are a few companies who do this incredibly well and you could learn a lot from them.
Buffer is a social media posting tool, but there blog has an incredible voice that attracts their ideal user. The blog is transparent and adheres to their culture. Its popularity shows just how well received the content is.
Coursefindr is another start-up that has really nailed its voice. It's aimed at kids from the UK that are looking for a university degree. When you read their content, you can really tell that it knows how to talk to them. Whilst it's got all the facts and important stuff that teachers and parents look for, it delivers it in a manner that the students find interesting and engaging.
Finally, Seth Godin is a thinker/author/speaker who knows that his readers are bombarded with content every day. Instead of aiming for blog posts that surpass the 1,000 word mark, he writes short posts that you can read before you get out of bed in the morning. Each post has a real focus and he uses his words wisely.
What 'Your Voice' Will Look Like
As you learn more from your readers and begin to think about who your target reader is, it's important to make sure you keep your voice steady through each article or blog post you write. My personal preference for doing this is to have a 'living document' that you continually update. I use bullet points so I can easily see what makes up 'the voice'. Points such as, 'to the point', 'funny', 'professional', 'juvenile', are the types of words that I would include.
I also like to have these printed off and stuck to the wall in front of my screen. It acts as a constant reminder for how I should be writing any content and also allows me to switch between writing styles more easily. Of course, if you're only writing content for your own brand, then you may be able to get away with just the digital version that you can refer to before proofreading your article.
In essence, finding your voice is a never-ending journey. It's a fun one though, and one that is well worth the effort. Your content will be recognised by readers more easily and you'll see the benefits in the comment box beneath your articles too!
If you've already got your voice, let me know how you keep yourself on tone when writing. I'm always interested to hear how other people work!
About the Author
Lewis Love is a professional Marketing Consultant, specialising in new media. He's the author of the bestselling book, Facebook Business Basics.