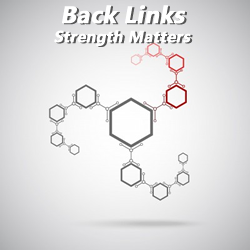 Link building is still the mainstay of how major search engines rank websites but the interpretation of link data has changed ever since the Penguin update was launched. Bad link building is one of the easiest ways to get penalized, but good link building can be the hardest part of your job (even more so in certain niches).  So, what can be considered definitely as a bad link or a link that should be "disavowed"?
Site wide footer links / multiple links from same domain
Blogroll link
Forum posting / profile link
Free directory links
Links from same class C IPs
Links from spun content
Links to different industry websites from the same article / content
Links from link-farm directories / pages
Links from non-English sites (for example – .ru, .jp, .cn, etc.)
If you have fallen prey to this techniques earlier by some unethical vendors who claim to be experts, it is always advisable to get rid of such links either manually or disavowing the links via Google Webmaster Tools.  From our end, we have adopted the below techniques as far as building links is concerned.
Backlink Analysis – Balancing of followed links to nofollow to have a natural profile. Check backlinks and traffic of sites from which we are getting links to find and weed out sites which are themselves hit by this update.
Link Velocity – The first and most significant observation that stood out among sites which were affected by Penguin update was link velocity. We have reduced our link velocity since the update. Getting too many links quickly will be flagged easily by Google.
Anchor Text Diversity – Continue to vary anchor text and lower the % of specific key terms focus. We have been doing this since 2012 and will continue to work the %'s.
Link Diversity – Sites performing well have good link diversity including links from Guest Blog Posts, info-graphics, videos, local business directories, presentations, coupons submissions etc. Since Google prefers a diversified link profile. We recommend getting links from these sources. Most of these sources are also now part of new deliverables.
Apart from this, to get quality links you can also consider link reclaiming. Link reclaiming is the act of finding sites that mention you, your brand or a related story and simply asking for a link.
There are a number of ways to find opportunities for link reclamation:
Web Mentions – Google Alerts is the most popular tool for monitoring mentions on the web, but Moz has also just released an alert function for their Fresh Web Explorer. Set up an alert for your brand name and when a site mentions you without linking send them an email.
Images – Use Google's Search by Image tool to find out where people are using your images and ask for a link credit, this works almost 100% of the time.
Videos – If you are hosting video on YouTube you can use their analytics platform to see where your videos are being watched on external sites. Visit those sites and ask for a link to your website to supplement the video.
If you incorporate these rules to your online strategy you're more likely to rank higher while also providing a good user experience which is ultimately what Google wants for its users.