Back Linking Jump Start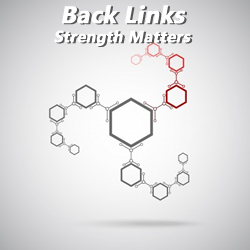 Backlinks are still #1 for Ranking High on Google,
But Quality is Key!
Even with all of Google's algorithm updates back links are still one of the most important ques that Google receives to rank your website high or low. However, the strength of those links is more important now than ever.
---
What do we mean by the strength of a back-link?
Google gives each site a page rank or PR in search engine optimization termswhich is determined by several ongoing factors such as:
1. How frequently the site updates it's content.
2. The quality of the content
3. Who is linking back to you (this is the back-linking part).
4. How often and how much you are shared across the web (a new but increasingly important factor; socializing).
Google has stated over the past couple of years that new and relevant content is the most important thing you can do to get and stay ranked high on the search engines and it will become even more important in the years to come. We encourage you to update your blog or website and make relevant and intriguing content but we also think that in the competitive world of Internet marketing it's equally important to have a back-linking program to share your content across the web.

What makes your back-linking different?
The quality, page rank and relevance of your links is extremely important when trying to link higher on Google, Bing or Yahoo!. We've heard of many scary and unethical SEO stories where individuals bought links from unqulified SEO companies, and their websites paid the price dearly by either being banned from Google or downgraded severely in their search engines page ranking. We uphold only the safest natural back linking campaigns to get you the desired results over time with a long term strategy in mind.
How do I get started?
Please fill out the form to the left with a brief overview of what you'd like to accomplish, the field you'd like us to write on, the website(s) you'd like to add a blog to (or if you're creating a new blog include the name you'd like it to have) and any other information you'd like to give.
We'll be in touch within 24 hours or less to arrange a phone or Skype call or an in person meeting.
Need a responsive website?
Whether it's an inexpensive responsive website template or a custom modification to your current website we can help you develop a website that's user friendly on all types of screens.
Need a hand managing and staying on top of the latest social media outlets?
We can manage all of your social media hubs while still keeping you involved. Let us develop a social media strategy for you.
Need to analyze what is working and what's not?
We can implement Google and social analytics for small businesses or full-scale Omniture® Analytics for enterprise sized businesses.