Pay Per Click Advertising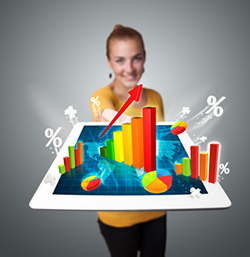 Pay Per Click (PPC) can be effective if you're ads are targeted
If you're just getting started on the web or search engine optimization alone is not working PPC may be an effective addition to your online marketing. We offer PPC ad management and implementation through Facebook, AdWords (Google), Yahoo! and Bing.
---
What is PPC?
Pay per click (PPC) (also called cost per click) is an online marketing model used to direct traffic to websites, specifically a relevant page, where, you, the advertiser pays the search engine or website owner when the ad is clicked. With search engines, advertisers typically bid on keyword phrases relevant to their target market.
Among PPC providers, Google AdWords and Yahoo! & Microsoft's AdCenter are the largest network operators, and all function under a bid-based model. Facebook is quickly becoming the PPC place of choice though and may exceed AdCenter soon.
Why PPC in addition to SEO?
If you're business or product is in an extremely competitive market and search engine optimization (SEO) alone is not getting you enough business, pay per click may be a good addition to your advertising campaign.
We can work out a campaign to target the most expensive keyword terms with SEO and for the leastexpensive keyword terms we'll utilize Google AdWords so your business is guaranteed to be seen at all times!
Where will my ads be seen?
You're PPC ads can be seen on Google, Bing, Yahoo! or Facebook. Depending on where you want your ads to be seen and the size of your budget we'll guide you to the most effective PPC campaign(s) for your target market.
How do I get started?
Please fill out the form to the left with a brief overview of what you'd like to accomplish, the industry you're in and any other information you'd like to give.
We'll be in touch within 24 hours or less to arrange a phone or Skype call or an in person meeting.
Need a responsive website?
Whether it's an inexpensive responsive website template or a custom modification to your current website we can help you develop a website that's user friendly on all types of screens.
Need a hand managing and staying on top of the latest social media outlets?
We can manage all of your social media hubs while still keeping you involved. Let us develop a social media strategy for you.
Need to analyze what is working and what's not?
We can implement Google and social analytics for small businesses or full-scale Omniture® Analytics for enterprise sized businesses.