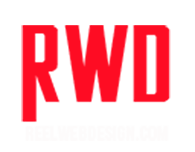 Our Main Internet Marketing Services
Who We Are
reelWebDesign.com is a search engine marketing, website design and content marketing agency in Westchester New York that caters to small and medium sized businesses trying to maximize sales and branding.
What separates us from other web design and digital marketing companies is that we factor in marketing when designing your website and vice versa. We have an integrated approach to marketing which incorporates search engine optimization (SEO), Mobile/Responsive Website Design and the latest social media marketing (SMM) and content marketing techniques. We can even write for your blog and guest blog on other websites, if you're not up to the task, and share it among our social networks! All of these techniques get you seen as an authority, ranking high on the search engines and shared among all of the popular social media hubs.
What separates us even further from our competiors is that, Peter Marino, the owner of reelWebDesign.com, is your personal contact. Peter is also available for overall Internet marketing training, SEO training and web design workshops in either a group or one on one setting. We keep it personal while giving you world class service! Have a question? Go to our blog and leave a voicemail (the button is on the right side of the page) and I'll try to answer it in a future blog post!
Call us today @ (646) 205-3293 and leave us your phone number or call our White Plains, NY number @ (914) 573-4932. Peter will call you back promptly.
What can we do for you...
Everything to maximize your presence online and enhance both your brand and authority! We use tried and true marketing methods that amplify your online presence with a concrete marketing strategy in place. We analyze and test our methods month to month with customer driven reporting on: analytics, search engine ranking placement (SERP's), social analytics and proactive methods and suggestions for enhancing your online presence even further. We also accept Bitcoin as a form of payment!
Want a consultation with Peter Marino using Bitcoin for payment go here: Pay With Bitcoin
We love what we do and every new client is a challenge for us to see how BIG we can make YOU!



Did we also mention that we are Hootsuite Pro Partners and a YEXT Certified Partner!

What is content marketing?
Content marketing is the technique of creating and amplifying relevant and valuable content to engage and acquire a well defined and understood audience with the aim of driving profitable customer action.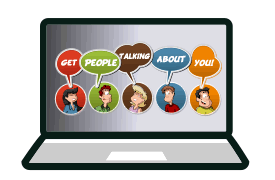 The purpose of content marketing is to try to attract and retain customers by consistently creating and/or curating valuable content to either change or enhance consumer behavior.
Content marketing is basically the art of persuading your customers and prospects to want your product or service by delivering information that makes your consumers more intelligent. In other words, if we convey consistent, ongoing valuable information to potential customers, they will ultimately reward us with their patronage and loyalty.

How can content marketing help my business?
Content marketing can help your business by educating your customers to know what to look for, and by making you and your business the authority within your field/industry. Content marketing should be used as a long term marketing strategy to improve your businesses authority and/or your personal authority and appeal within your industry or field.
How does content marketing work?
Content marketing is a unique and intriguing marketing tactic in today's environment of hundreds, if not thousands, of marketing messages per person per day. Exceptional content marketing makes a person stop… think… and behave… differently. So we make every content marketing package unique to every company and have you answer an elaborate questionnaire to get the feel and vibe of your business and find out what your ideal customer should be and can be.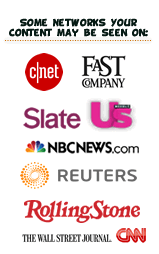 Then working within your budget we create both on-site blog posts, guest blog posts and social media messages to share across the web. Using our content marketing partners we then amplify those posts, articles or videos to get them in front of readers on high volume websites like CNN, The Wall Street Journal, Reuters, NBC news, Cnet, Slate, US Weekly, Rolling Stone, Fast Company and many more. Over time your authority, brand and sales will grow from your unique content and insights.
Want to get started? Go to our content marketing packages page and fill out our content marketing form and email it back to us here.
Be sure to follow our blog via our RSS feed too!

Advertisement